Across many areas Europe has largely grown together. Europeans and visa holders can work live and work anywhere in the EU. Travelling is cheap and easily possible without any border controls. Thanks to a single currency and exchanging money has become obsolete. There is one system for bank transactions (IBAN / SWIFT) so that bank account numbers follow a united format and European cross-border transfers can be done for the same cost as domestic transfers. Only the banks itself still think in their established patterns and borders. Lots of accounts only offer their services for residents of a specific European country. However, this trend has been changing. Some banks offer European bank accounts that can be opened from any European country and easily be used in any other country – not only for travels but also when moving: whether you want to withdraw money, get customer service, pay bills or receive salary. In this article, we show the best truly international European bank accounts that you can open and use across the continent.
See here the overview of banks. Further information and details for the individual banks are about to follow:
N26: Europe's Leading Mobile Bank
N26 is Europe's leading and most valuable digital bank. The Berlin-based company has evolved into a truly pan-european player. Almost any European citizen can open and use the account in their country of residence. The big prize for localized customer support also goes to N26. It is a real polyglot "speaking" not less than 5 languages: English, German, French, Spanish and Italian.
N26's mobile app is state-of-the-art and the heart of N26's services. Even though there is also a web interface, the app is essential for any customer to manage their account. It is extremely user friendly and offers features like managing sub-accounts (spaces), push notifications in real-time to control card usage, an ATM Finder and much more.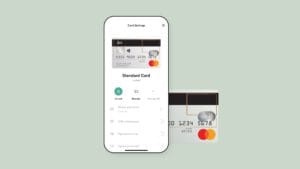 Card settings in N26 app
The disruptive business model is also characterized by the options available when it comes to types of accounts offered. Their standard account is free of charge and very easy to set up and use. Besides that they offer other 3 types of paid accounts with a wide range of facilities and offers to explore.
N26 issues its "standard" customers a free virtual Mastercard Debit with contactless option (fully suitable for i.e. store payments and online shopping; some hotel or rental car companies may ask for a credit card). A physical card can be requested for a €10 one-time fee.
The amount of free cash withdrawals is limited for the standard account (usually 3 free monthly withdrawals; however, depending on the country of residence). Free withdrawals are available in all Eurozone. For other currencies, a smaller foreign currency transaction (e.g. 1.75%) fee may be applicable.
To find out more, read here our detailed review of the N26 international bank account or simply visit N26's website using the link below.
Vivid Money: Free Mobile Banking and Investments
Founded in 2019, Vivid Money is a rather young company. However, this does not mean that your funds aren't save: All funds of up to €100,000 are entirely secured by the public German deposit protection scheme.
Accounts can be easily opened through the mobile app from all over Europe and they offer an English and French customer service as well as interface. For those being on a budget, it is a plus that the Vivid Money Standard account is free of monthly charges.
Just like most digital banks, Vivid's mobile application allows you to do transfers, follow transactions, block the card and includes more features such as tracking incoming payments or purchases in real-time. As a special perk, Vivid offers 15 sub-accounts ("pockets") that have their own bank account number ("IBAN") and can be connected to your card before any transactions. One of the great facilities is that these Pockets can be shared with other users allowing a great management between your household, friends, partner or really anyone else you wish. They also allow storing funds in different currencies: To top everything up there are no fees for payments in 40 foreign currencies. This is great from someone coming out from the U.K or Denmark for example.
Vivid comes with a debit MasterCard, which works for any daily expenditures such as store payments or online shopping. This is industry standard but can be a downside when it comes to hotel bookings or car rentals once debit cards may not always be accepted as a guarantee. Nevertheless, the brand provides you with an elegant and safe card in terms of theft – all personal or bank details are hidden and only accessible through the mobile app. Vivid Money supports Apple as well as Google Pay, just as we expected from any good digital bank.
Vivid allows you free cash withdrawals at all ATMs worldwide with a monthly cap of €200. Anything above that cap or below €50 per withdrawal applies a fee of  3% (min. €1).
Find out more on our short review of the Vivid Money bank account.
Tomorrow Bank: A Sustainable B Corp
In comparison to the previous mentioned banks, Tomorrow Bank does not offer a free bank account. Fees in December 2021 for the 3 different types of accounts wer: Now – €3; Change – €7; Zero – €15.
Though this can be a downside, there is another great reasons to open a bank account with Tomorrow. It is a certified B Corp for sustainability, meaning they are pretty much the only sustainable pan-European bank around. B Corps are not only characterized by the way they perform their activities but also the support they give to keep the world a greener and more ecological place. For each euro paid with their card a promise of 1 m² of rain forest is saved from deforestation. Furthermore, customers can compensate their carbon footprint.
You can become a Tomorrow customer with a residence in numerous of EU/ EFTA countries. All funds up to €100,000 are covered by the public German deposit protection. Customer support is not only available in German but also English.
Besides the normal mobile functionalities such performing transfers, following transactions or blocking the card, Tomorrow has a fine taste when it comes to app design.
The account comes with a debit Visa card that is suitable for store payments or online shopping. Apple as well as Google Pay are supported. Tomorrow does not offer credit cards that are at times required as a guarantee for hotel bookings or car rentals.
A downside is that cash withdrawals are not always free. Depending on the account you choose you can be charged €2 per withdrawal (on Now account). The Change account includes 5 complementary withdrawals per month whereas there is no limitation on the Zero account.
Our short review of the Tomorrow Bank account gives you more details. You can also just click on the following button to directly visit Tomorrow Bank's website.
Bunq: Green Banking
bunq is a Netherlands-based neo-bank. They operate in all the EU and – aside from Dutch bank account numbers (IBAN) – they even offer local bank account numbers depending on your country of residence. Whereas in theory within Europe all bank account numbers shall be treated equally, in practice it may happened that in some instances (e.g. employers) local bank accounts are preferred. With bunq you are on the safe side, as they provide an IBAN with the corresponding country pre-fix (e.g. FR for France, DE for Germany, ES for Spain, NL for Netherlands) based on your residence. A broad customer support is offered in pretty much every European language.
It's impossible to talk about bunq and not mention the fact that they were the pioneers in "Green Banking" – being the first ones to allow customers to choose where and how their money is invested in the market. A path that Tomorrow bank has adopted later on.
bunq offers essentially three different types of bank accounts. For every account a private and business version is available – any of them comes with a monthly fee: Easy Bank (€2,99 private / €3.99 business); Easy Money (€8,99 private / €10.99 business); Easy Green (€17.99 private / 20.99 business).
Every account comes with 1 – 3 banking cards (Maestro, MaesterCard Debit, Prepaid MasterCard Credit "Travel Card) and up to 5 digital cards. In 2019, Bunq also started a partnership with Wise bank. This allows their users to make international payments at real currency prices avoiding high fees when performing non-Euro transactions.
Bunq has a limited number of complementary monthly cash withdrawals one: None for Easy Bank, 4 for the other account types. Any withdrawal outside the free limit is charged with a reasonable €0,99. You can find a holistic overview of the differences in bunq's accounts here (promotional link).
Wise: Account for Today's World Citizen
This is literally the bank for the world's people: Wise gives you a multi-currency account. Pretty much alone in the market, they allow their users to receive, transfer as well as pay in different currencies all over the world with the very same account and for no charges! You can hold more than 50 currencies, and convert between them at the real exchange rate. No need to mention that this is a dream for nomads or constant travelers not only because of their wide range of multi-language support.
With Wise you'll also be able to receive your salary through this account and spend it elsewhere. There are several places in the world (including European countries) where a local bank account number can be generated in order for you to get paid. For instance, you can open an account with your address in Germany and once moving to Australia, a national IBAN can be requested at zero cost! In terms of security, Wise is regulated by various national regulators (e.g. in UK/ Belgium for EU+EEA, US, Canada, Japan, Australia, India) to keep funds safe.
To get a MasterCard Debit a one-time fee of €8 must be paid. It can be used for cashless payments and withdrawals. Per month, two free cash withdrawals of up to £200 are included, anything above is subject to fees. Furthermore, ApplePay and GooglePay and also supported.